Even though Baby Hall is coming in November, I'm going to attempt to complete the Winter Book Challenge. This is my preliminary list and I may change my mind about what I'm reading as the months go on
.
I also want to see what other people are reading to get ideas.
Semi Charmed Winter Book Challenge
For complete rules and categories, visit
Semi-Charmed Kind of Life's post
.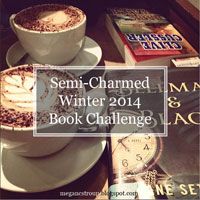 5 points:
Freebie! Read any book that fits the general rules.
If I Stay
by Gayle Forman
10 points:
Read a book written by an author who has published at least 10 books.
The Storyteller
by Jodi Picoult
10 points:
Read a book of short stories.
The Best Short Stories of O. Henry
by O. Henry
10 points:
Read a book with a food in the title.
All's Fair in Love and Cupcakes
by Betsy St. Amant
15 points:
Read the first book in a series that is new to you
.
The Selection
by Kiera Cass
15 points:
Read a book that was originally written in a language that is not your native language.
Love in the Time of Cholera
by Gabriel Garcia Marquez
15 points:
Read a book written by a local author (either an author from your state if you live in the United States, or from your country if you live somewhere else).
Undecided- I'll probably reread a Nicholas Sparks' book that I haven't read in a while.
20 points:
Read a "bookish book" (in which books play an important role, e.g. the setting involves a bookstore or library, a major character is an author, or a book that celebrates reading and books.
The Jane Austen Book Club
by Karen Joy Fowler
20 points:
Read a book with a direction in the title (e.g. north, south, east, west or any combination of those).
East of Eden
by John Steinbeck
25 points:
Read a book from a genre you don't usually read.
Carrie
by Stephen King
25 points:
Read a book with a song lyric in the title. Be sure to tell us the song name and artist as well!
Remember Me
by Mary Higgins Clark (song of the same title by Mark Schultz)
30 points:
Read two books with a different meal in each title (e.g. breakfast, lunch, dinner, supper, brunch).
Thirteen at Dinner
by Agatha Christie and
Marshmallows for Breakfast
by Dorothy Koomson
Do you have any recommendations for any of these categories? I'm not set on this list.